The Recreational Team program (Rec.) is an alternative competitive program. It is designed to provide a safe, fun and rewarding gymnastics experience for gymnasts participating in recreational programs. Many participants in the program enjoy gymnastics along with a variety of other interests, activities and sports throughout the year.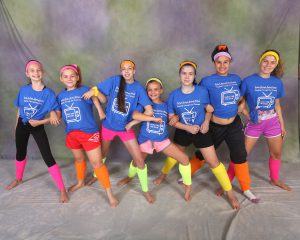 The program offers a wider range of skills with room to grow and for gymnasts to progress at their own pace. It does not require the same level of commitment as The Junior Olympic Program. All of the routines are choreographed to each gymnast's skill level, ability and personality. Routines allow the athlete to train skills, compete, and build confidence and experience. The program teaches athletes how to work together, support one another and what it is like to be part of a team. They have the opportunity to compete in the Get Your Feet Wet League.
Age 7 & over accepted into program
Training is 3 to 6 hours a week
Training days are Tuesday & Thursday  5:15-8:15
Competitions are optional but encouraged
The Rec. Team is coached  Head Coach Eileen Grande. This program has opened the door to the world of gymnastics and a new way of enjoying the sport and had encouraged more girls to participate.