Our Boys Team is broken down by levels 4-10 and the new Junior development. The ages range from 6 to 18 years old. Each athlete trains on all six pieces of men's Olympic events: Floor, Pommel Horse, Rings, Vault, Parallel Bars and High Bar.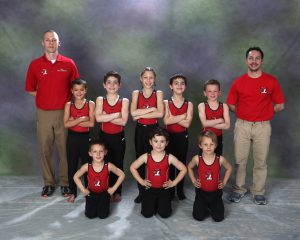 We also use a Tumble Track to learn body control in the air. Levels 4-7 work on a compulsory routine on each event and levels 8- 10 and Junior Development create a routine. Level 4 trains between 4 and 8 hours per week. Level 5 trains between 6- 8 hours per week. Levels 6-10 train between 10 and 16 hours per week. Junior Development trains about 7 to 11 hours a week. Each gymnast is required to wear a competitive uniform, which contains a singlet, shorts, stirrup pants, warm up jacket and pants, and a gym bag to all meets. They may also need a set of High Bar and Ring grips once they obtain level 5 or 6.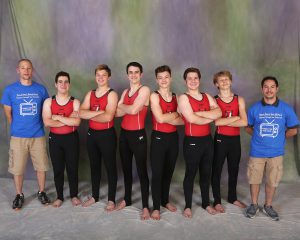 Please call for pricing and tuition is due monthly
.
Our Boys Team is coached by Dan Sirois. He has been teaching gymnastics for over 20 years and has a BS degree in Movement Science from Westfield State College. Coach Dan has been coaching our Tumble Time Boys Team since July of 2007. Since then, he has helped multiple team members reach their goals of becoming a State and/or a Region Champion, and National Qualifier. The team is also coached by Nate Singer, a former member of the team and John Kyle. Coach John was an assistant coach at Springfield College and was also  a competitive collegiate gymnast. The Team typically competes against other gymnasts from other gyms in the New England area. In February of 2012, the boys had the opportunity to compete at the Blackjack Invitational which was held in Las Vegas, NV